Image by Kate Branch

InnerSelf's Daily Inspiration
March 16, 2023

The focus for today's inspiration is:

Self-love, self-care, and nurturing my own soul, comes first.
A successful relationship has two very important components: learning to love yourself first, and then learning to love another person.

Too many people ignore the first part, then wonder why it's so hard to love another. It's like expecting to water a plant with an empty water pitcher. Or trying to put on your child's oxygen mask when the airplane cabin pressure drops, but passing out from lack of oxygen before you can get it on.

Self-love, self-care, nurturing your own soul, comes first.

CONTINUE READING:
Today's inspiration was excerpted from the InnerSelf.com article:
The Two Important Components of a Successful Relationship
Written by Barry Vissell.
Read the complete article here.


This is Marie T. Russell, publisher of InnerSelf.com, wishing you a day of nurturing your own soul (today and every day)

Subscribe here to join me for the next installment of "InnerSelf's Daily Inspiration".

The focus for today: Today, nurturing my own soul comes first.

* * * * *
RECOMMENDED BOOK:
To Really Love a Woman
by Barry and Joyce Vissell.


How does a woman really need to be loved? How can her partner help to bring out her deepest passion, her sensuality, her creativity, her dreams, her joy, and at the same time allow her to feel safe, accepted and appreciated?

This book gives tools to the readers to more deeply honor their partners.

Click here for more info and/or to order this book
About the Author(s)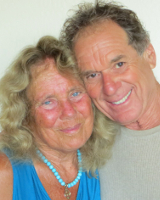 Joyce & Barry Vissell, a nurse/therapist and psychiatrist couple since 1964, are counselors, near Santa Cruz CA, who are passionate about conscious relationship and personal-spiritual growth. They are the authors of 9 books and a new free audio album of sacred songs and chants. Call 831-684-2130 for further information on counseling sessions by phone, on-line, or in person, their books, recordings or their schedule of talks and workshops.

Visit their website at SharedHeart.org for their free monthly e-heartletter, their updated schedule, and inspiring past articles on many topics about relationship and living from the heart.